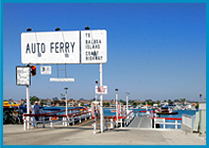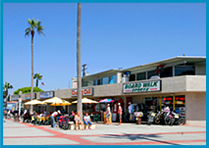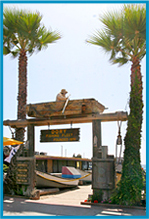 Lower West Newport
On the Balboa Peninsula, lower West Newport begins at the Newport Pier and ends with the boardwalk at 36th Street. Traveling the boardwalk by bike, in line skate, or by foot offers the best opportunity to see the many miles of beach that Newport has to offer.

Most of the shops and restaurants on the peninsula are located in Lower West Newport, and are easy walking distance from the house. The Crab Cooker and The Spaghetti Factory, and Ruby's on the Balboa Pier are just a few popular favorites. From five star restaurants to pizza, Chinese, & burger takeouts, there is a wide variety for everyone for every occasion. In this neighborhood there is a Pavillions market which is walking distance from our home.

Lower West Newport is a great place for kids to learn to play in the surf due to the rock jetties in the water that break up the rough surf. If you love to shop there are two shopping centers close by, South Coast Plaza and the open air Fashion Island. You may also like to take the historical ferry boat from the Balboa Pavilion across the bay to the charming Balboa Island where there are many shops, restaurants and ice-cream stands. The house is 45 minutes from Los Angeles, 20 minutes to John Wayne Airport (SNA) and 25 minutes to Disneyland.